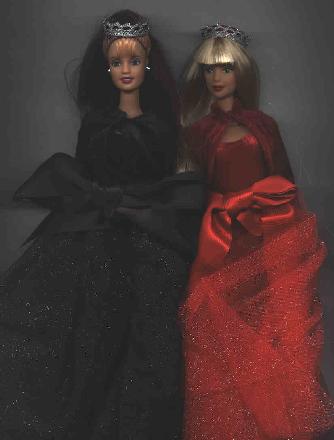 The Very Velvet line marks the first appearance of Barbie with a slimmer body mold. These cute play line dolls have a torso that is unique to them, hidden under velvet catsuits that are sewn on. As far as I know, this is the only time a play line doll has been produced that can't change her clothes! This may have something to do with the line's lackluster sales to kids.
The Doll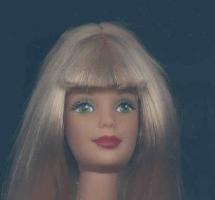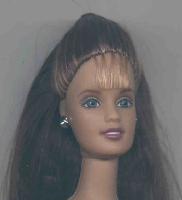 Since these are play line dolls, the facial style here is simple, but is still nicely done. Barbie features big green eyes, an unusual color for her, and full true red lips. Her hair is pale blonde, done in a long sweep with a side part and thick bangs. Teresa has blue eyes and a fabulous shade of mauve for the lips. Her hair is pulled back at the top and then crimped, and she has streaks of strawberry blonde highlights and long choppy bangs. Both dolls have silver stud earrings.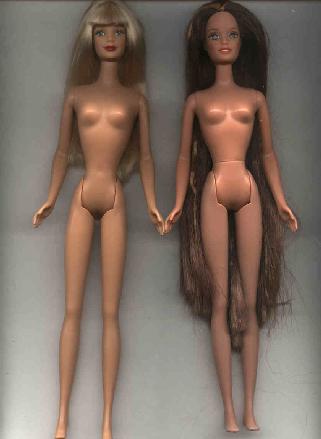 The above picture compares the Teen Skipper/'new' Barbie body to the Very Velvet Barbie. VV is missing a twist and turn waist, but instead has a very discrete belly button. VV has the Teen Skipper arms and the standard Barbie legs. Her hips are even skinnier than Skipper's making her look a little top heavy!


There's not much else to say about the bodies, except… watch out for stains! Both bodysuits cause terrible staining. My scanner didn't take very good pictures of the red stains, although you can see traces of them in the side view picture above and in the shots below.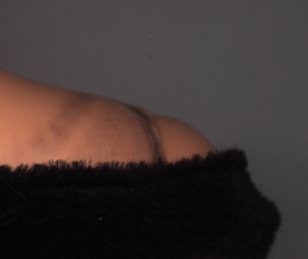 Evaluation:
Faces: B+
Body: B
Hair: C+
Overall: B-
The Outfits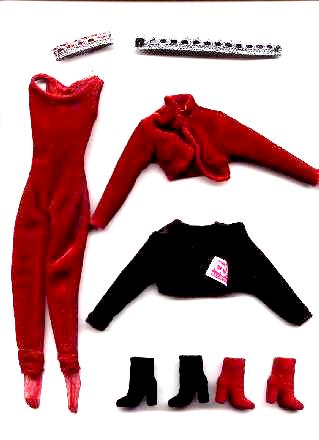 These outfits are a great example of Mattel's quality control problems. Neither of the two bodysuits had both sewn in stockings with their seam in the back. *sigh* The long sleeved jackets are unique to each doll… Barbie's has a high collar and fastens with a Chinese loop and button, while Teresa's has no collar and fastens with a snap underneath two small rhinestones. The outfits are finished off with flocked velvet boots and big lack glitter skirts that tie with a satin ribbon. Each doll also comes with a silver 'crown'. Interestingly enough, Barbie's is sewn together while Teresa's fastens with a snap.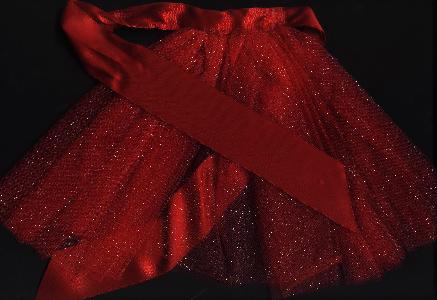 Evaluation:
Fabric: D-
stains
Style: B
Execution: C-
penalized for stains and sewn on status
Overall: C
The Accessories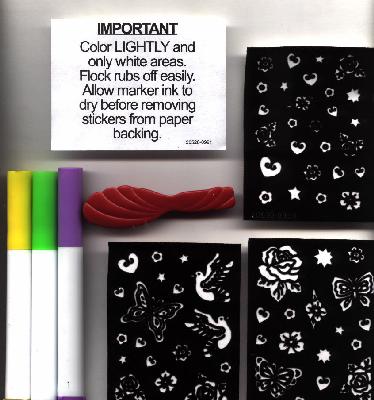 I thought this was a pretty silly idea to start with, and the warning label makes me even less thrilled about it. I'm sure coloring the stickers could be fun for an eight year old, but the whole thing just gives me visions of kids with stained fingers getting velvet goo everywhere.
Evaluation:
Concept: B
Style: B-
Playability: B
Overall: B
The Result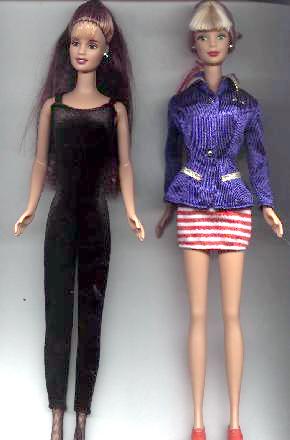 I bought Very Velvet Teresa for the cool black bodysuit, and given her staining problems I doubt she'll ever wear anything else. Barbie's stains came out easily, and I bought this darling FA for her. Doesn't she look ready for a day on her yacht?