The Disney family of companies and Mattel have had a long and profitable relationship, happily intertwining their respective specialties to part the consumer from their money. They have also created some wonderful exclusive dolls. (Anyone else remember Toontown Stacie?) This particular doll is designed to celebrate the rollover year, and it helpfully provides a map of hotels owned by Disney in the Orlando area on the back. Outfitted in a light outfit and wearing sensible shoes, Barbie is ready to take on the Magic Kingdom- one line at a time.
The Doll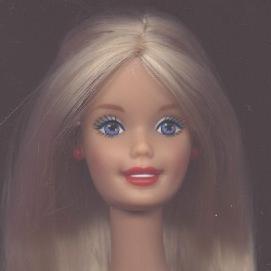 This doll makes great use of the superstar face mold. Bright red lips and blush coordinate well with her fanciful outfit. Her eyes are blue and lavender, with just a hint of shadow. She wears small red earrings. Her hair is also nicely done- a waist length sweep with a center part.



The body here is very standard- Shani arms and that distressing white rear. The skin is a pale tan color.
Evaluation:
Face: A-
Body: B
Hair:A-
Overall: B+
The Clothes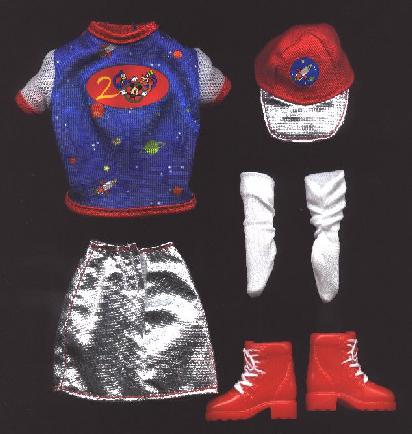 I think Mattel was trying for a cross between Barbie's normal wardrobe and Judy Jetson's clothes here. The top is adorable! The fabric for the main piece is blue with Sputnik era style rockets and planets printed all over it. In the center of the top is a securely attached iron-on of the Walt Disney World 2000 logo. Further detailing is provided by white mesh sleeves and red trim. The skirt is silver lame with red top stitching. Mindful of the dangers of too much sun, Barbie has a red baseball cap with a silver brim and another iron-on that features the rocket image from her t-shirt. Finishing the outfit off are white scrunch socks and sturdy red boots with white laces. I can't quite manage to warm to the boots myself- they look too much like something Ronald McDonald would wear.
Evaluation:
Fabric: A+
Style: A
Execution: B
Overall: A
The Accessories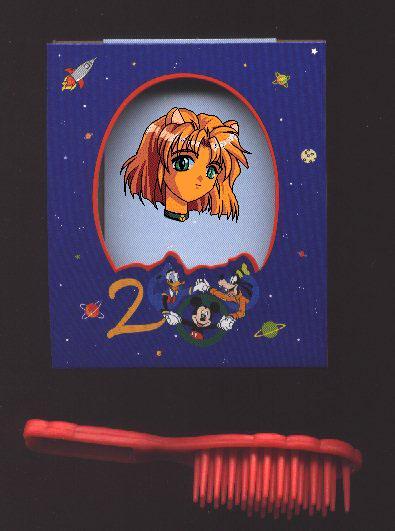 There are hardly any accessories included with this doll. In addition to the ubiquitous brush, there is a cardboard photo frame featuring the space print and the WDW 2000 logo. There is also a small plastic camera for Barbie to take pictures. The camera is very well done, with lots of detail, as shown in the photo below.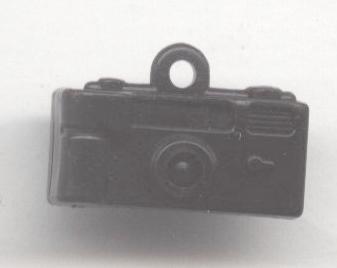 Evaluation:
Concept: B
Style: B
Playability: B
Overall: B
The Result

With the right outfit, this Barbie goes from a high school tourist to a professional working woman. This is one of the new deluxe Fashion Avenues, and it is really impressively well done. The leopard print blouse snaps in front and can be tucked in to the white vinyl pants without looking awkward or causing strange bulges. The jacket is tailored and profession looking- a definite two thumbs up!