At first glance, I was disappointed in this doll- I thought the baggy suit contained the 'normal' doll body. I've never been happier to be wrong about Mattel. This doll is 100% new molds, and while there are some resemblance to existing Mattel molds, each and every part is clearly designed to reflect a more rubenesque form than Barbie's. Whether or not this is a publicity stunt designed to counteract some of the persistent press attempting to blame Barbie for girls' bad self image remains to be seen. In the meantime, $5 of the proceeds go to Rosie's charity for kids, although I don't believe that includes self-esteem classes.
The Doll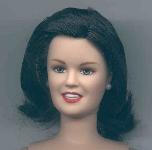 Making doll faces that accurately reflect a real person can be extremely difficult, but Mattel did a nice job here. They used some relatively simple touches to give the facial sculpt depth and connect it with the 'real Rosie': slight molding of teeth in the smile, eyes that are set further back into her face, and the big smile lines. The face paint is very minimalistic: brown liner, red lips, and the faintest hint of blush. Her hair has a very tightly rooted part in the correct location, as well a slightly less emphasized version of Rosie's widow's peak. The hairspray is really thick, far too much to brush out. One complaint: when they attached her head to the back of the box, one of the plastic fasteners was well below the hairline, leaving a hole that is really obvious when her hair is up.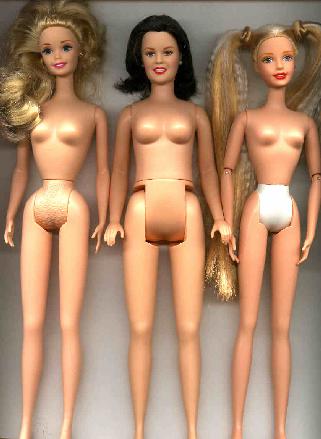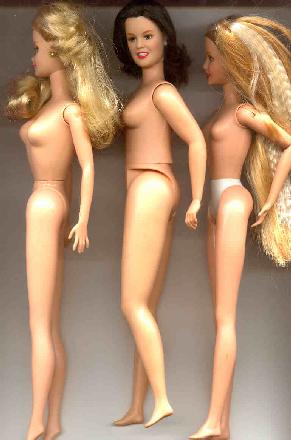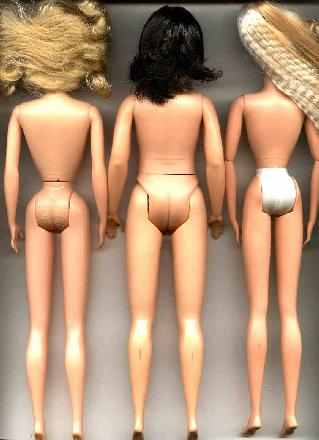 Quite a contrast, isn't it? Body mold comparisons in the above photos are provided by Swan Lake Barbie and Generation Girl Tori (as the standard Barbie and the new Barbie/Teen Skipper molds, respectively). Rosie's shoulders aren't that much wider than Barbie's, but even correcting for the size difference Rosie clearly has a shorter torso and neck. Unlike the other Mattel dolls, Rosie has a waist indentation that is higher than where her waist twists. There are a lot of other differences as well, but I think the above photos demonstrate them better than my writing could. Interestingly enough, she has the Teen Skipper feet. The only major problem with this body is that the larger legs prevent the knees from bending very far, but I'm too impressed by the whole concept here to care much. *laugh*
Evaluation:
Face: A
Body: A+
Hair: A-
Overall: A
The Outfit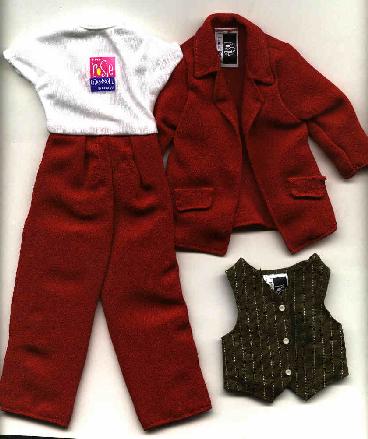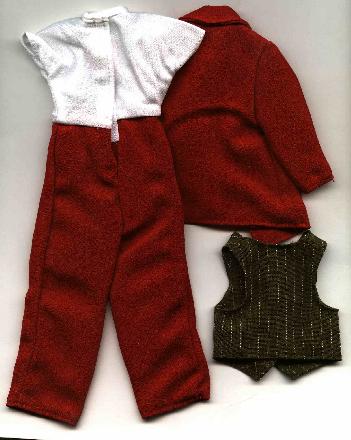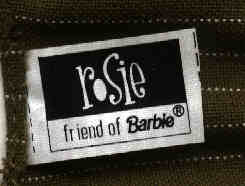 Sometimes Mattel just can't decide what they're doing. This outfit has a lot of classy touches: Rosie's own label in each and every piece of her clothing; nice pleats on the front of her trousers; full lining on the jacket and the pants; and actual snaps on the vest, which is an actual vest and not part of the shirt. On the other hand, the red suit pieces are cheap old lady polyester, and the t-shirt is permanently attached to the pants. The main piece also fastens with velcro, but at least it's the new thinner style. Worst of all, the tailoring isn't particular good, leaving an outfit that looks a bit limp when worn.
Evaluation:
Fabric: C+
(saved by the nice vest material)
Style: A-
Execution: C+
(one letter grade lost for the use of velcro)
Overall: B-
The Accessories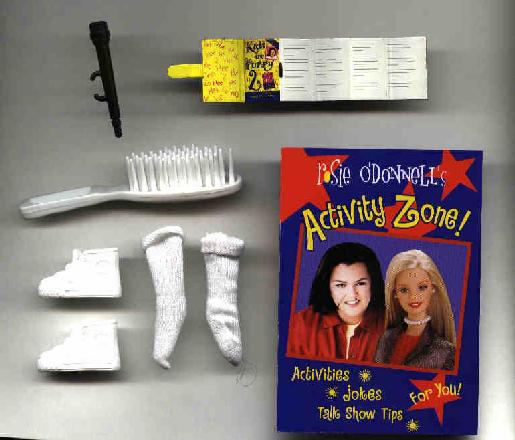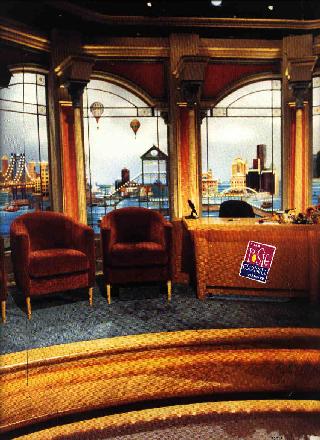 There aren't much in the way of accessories here, although kids will get a kick out of the activity book. A microphone, a little cardboard 'book' that folds out, white socks and sneakers, and a brush. The most interesting part is the box back, which is a to-scale photo of Rosie's set that you can use as a background.
Evaluation:
Concept: A-
Style: B+
Playability: A
Overall: A-
The Result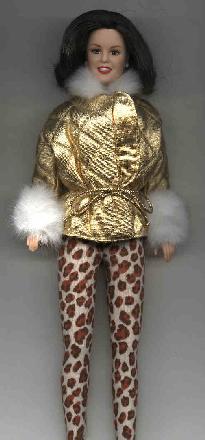 Rosie presents some interesting challenges for the redresser. Obviously anything of the B-girl's with a fitted waist is out. Rosie's lower torso is also considerably longer than Barbie's, which leads to the problem shown above middle. Holiday Voyage kindly offered her dropped-waist dress, which works much better. Be slow and careful when trying anything on Rosie. If you find a better outfit, send me a picture!


How could I have forgotten JEM when trying to find clothes for Rosie? Hasbro's '80s rocker doll had a lot of problems, one of which was that parents balked at the idea that she couldn't wear any of Barbie's existing wardrobe. Admittedly, a lot of Jem clothes are probably too wild for Rosie, but the basic spandex jumpsuit shown above fits great, and was available in a variety of colors. Add in the cute heart print bigshirt and some matching shoes, since Jem's are way too big for anyone else to wear, and you have a great casual outfit!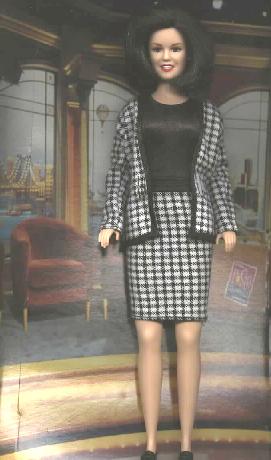 This suit, produced in the early '90s, shows another great possibility for Rosie. The gathered elastic waist expands enough to accommodate Rosie's figure. The black bodysuit is stretch satin, which works wonderfully. The jacket cannot be fastened over Rosie's stomach, but I think it looks more stylish open anyway. This particular outfit shows up a lot at garage sales (I own at least four sets of the skirt and jacket) so keep your eyes open!